~VERMONT HARVEST FOLK ART by Doreen Frost~
FINE NEEDLEWORK ~ WRITTEN PUBLICATIONS ~ PRIMITIVE WOOL APPLIQUE & PUNCH NEEDLE EMBROIDERY PATTERNS~
~ FINISHED GOODES ~ WORKSHOPS & RETREATS~
I spend my days, in our cozy little brown house in Vermont, tucked in a valley at the foot of Round Mountain, among the graceful Maples & Oaks.  Smoke billows from the chimney 7 months out of the year, a river rambles nearby, sheep & Cows graze in the meadows and turkey's forage nearby. Here you will find me...surrounded by wool, cotton threads, hoops & needles, & sketchpads scattered about.
'To practice any art, no matter how well or badly, is a way to make your soul grow. So do it.'— Kurt Vonnegut
~From A Little Brown House Gazette~
THE OCTOBER, FOUR YEAR ANNIVERSARY, ISSUE IS IN THE MAIL ~ I HOPE YOU LOVE IT.
**If for some reason, your issue has not reached you please email me, Doreen@vermontharvestfolkart.com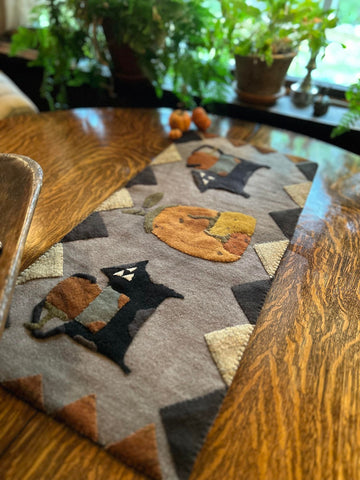 ~OCTOBER 2023~
LITTLE BROWN HOUSE GAZETTE, FOUR YEAR ANNIVERSARY PROJECT. You'll find the template, and full pattern in the October 2023 issue. I hope you enjoying bringing it to life.

**Gazette subscribers ~ if you would like to see more finished photo ~ visit the Little Brown House Gazette page.**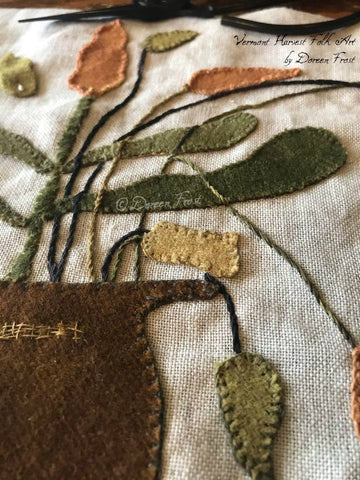 SPRING WOOL APPLIQUE CREATIVE RETREAT
OLD GLORY CREATIVE BIG BLUE HOUSE SPRING RETREAT ~ APRIL 14-19, 2024
Teacher ~ Doreen Frost ~ Nashville, Tennessee
CLASS IS NOW FULL ~ Thank you.
THIS IS A ONE OF A KIND COZY TENNESSEE GETAWAY YOU WON'T SOON FORGET. 
SUBSTACK